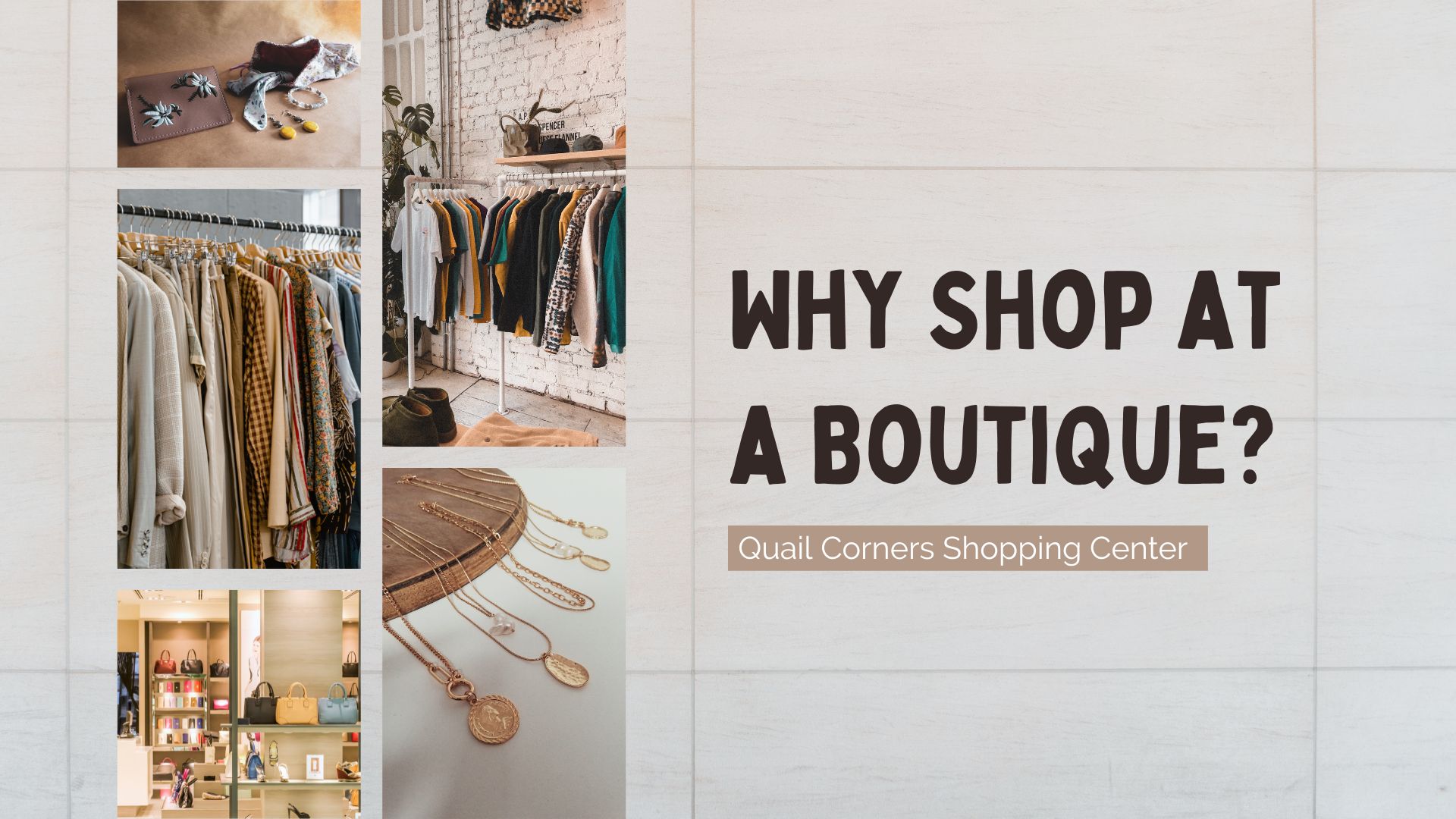 Why Shop at a Boutique?
In America, there are virtually unlimited options for where you can buy your next article of clothing. From online stores to retail giants to local boutiques, each store has a different set of consumers in mind when curating its clothing line-up. If you're looking for a basic that will last you a season or two, finding a cheap option online or in an impersonal retail store may be your best move. But if you value sustainability, individuality, and a personal experience, consider shopping at a boutique. Today, we're looking at three reasons you should shop at a boutique, some misconceptions about boutiques, and two in the heart of Quail Corners Shopping Center.
Why Shop at a Boutique?
Shopping at a boutique is a different experience than the average American shopping affair. Some people enjoy it, while others prefer to stick with what they're used to. Either way, it's important to understand the differences between retail and boutique shopping and how those differences can help you enjoy the shopping process more. Shopping at a boutique means supporting passionate people, finding quality pieces, and enjoying a personalized experience. If these sound like the perks you're interested in, keep reading.
Support Passionate People
It's no surprise to the average American that boutiques are small businesses, and small businesses are created and run by passionate people. While many small businesses fail within a few years of their opening, persistent small businesses are a testament to the passion and perseverance of their owners. Shopping at a boutique means showing passionate people that it pays to work hard and dream big. Their drive to curate the best line of clothing for their customers often translates to employment and customer satisfaction, which allows the owners and managers to affect their community in many positive ways. When you support boutiques, you support passion and people who care about your community, and this makes all the difference.
Find High-Quality, Unique Pieces
If people know anything about boutiques, it's that they're unique and pricier than the average retail store. What they may not realize is that boutiques often offer much higher-quality pieces than other stores as well. Clothing brings its wearers many emotions, both positive and negative. If you see someone wearing the same piece as you or experience a beloved piece becoming unwearable due to cheap construction, you'll probably experience more negative emotions than positive ones. Boutiques can provide clothing that gives you a more positive experience. Because boutiques carry unique, high-quality pieces, boutique customers are sure to be dressed in pieces their friends don't own for years to come.
Receive a Personalized Experience
Perhaps the best reason to shop at a boutique is the personalized care each customer will surely receive. From expert styling tips to customized service, boutique employees are all about giving customers the perfect experience. Shopping fatigue is real, but with boutique shopping, customers no longer have to "shop 'til they drop." Because boutiques cater to one style at a time and match so many pieces together, shoppers can walk in and walk out with confidence. Furthermore, employees are given more training on styling outfits, allowing customers to get trusted opinions on different styling ideas.
Common Misconceptions
It would be foolish not to acknowledge that there are a few misconceptions concerning boutiques. While boutiques can be expensive and niche, it may be worth looking into the reasoning behind both realities.
Boutiques Are Too Expensive
The first and perhaps most common complaint is that boutiques are too expensive. Admittedly, boutique clothing tends to be more expensive than Target, Walmart, or Amazon brands; however, there are a few critical reasons. First, boutique clothing is made in smaller batches. While large retail stores can take advantage of an economy of scale (products become cheaper to produce when you produce more of them), small boutiques cannot. This may seem inconvenient, but remember that boutiques can offer unique pieces solely because they work with small clothing batches.
Another reason for the higher prices is that the clothing is of higher quality. Because passionate people curate a boutique's clothing line, customers can expect that passion to translate into quality goods. Passionate people care about good products that customers will love for years, while impersonal companies care more about a higher profit. Yes, boutiques are expensive, but their value far exceeds the costs for many people, especially when it translates into higher-quality clothing.
Boutiques Don't Carry the Clothes I Want
A second complaint often heard concerning boutiques is that they don't carry the clothing a person wants. If this is something you've said, perhaps you just haven't found the right boutique. An important aspect of a boutique is that they carry curated lines for a specific market segmentation. Some boutiques cater to people who love bright colors, while some are for those who prefer neutrals. Some cater to an older, northern crowd, and other boutiques have a curated line for a younger, southern group. There are boutiques that cater to everyone; the key is to find the boutique that caters to your style. These boutiques will have the clothes you want all in one convenient spot.
Boutiques at Quail Corners Shopping Center
Now that you understand the pros and cons of boutique shopping, it's time to look at Quail Corners Shopping Center's very own pair of boutiques. While both have the same goal of catering to a unique audience dedicated to fashion and style, they both serve different market segments. Because of this, you're sure to find something in Quail Corners Shopping Center perfectly suited for you!
Swagger Boutique
Swagger Boutique is a small business with passionate owners and employees. Customers entering Swagger Boutique will receive perfect customer service and expert styling advice. If you enjoy Southern charm and bright colors, this award-winning boutique is the ideal place for you. With clothing, accessories, and shoes available, finding the perfectly curated clothing line of your dreams has never been easier.
Carriage House
Carriage House Clothing, also located in Quail Corners Shopping Center, is the perfect place to find your next staple with a twist. While this boutique is more toned down than Swagger Boutique, customers shopping at Carriage House are almost guaranteed to find their next favorite piece. This boutique's extensive range of high-quality items will quickly meet your clothing and accessory desires. Whether you're looking for a true basic or something a little different, Carriage House has the perfect chic and stylish piece for you.
Conclusion
In conclusion, shopping at a boutique has far more perks than cons. Of course, if there aren't any near you that cater to your style or are out of your price range, then continue to go where you can. But if you're willing to find your new favorite place and spend a little extra on your new favorite piece, you'll find it well worth the investment. If you're in the Raleigh area, shop at Swagger Boutique and Carriage House today and find everything your fashion-loving heart desires.