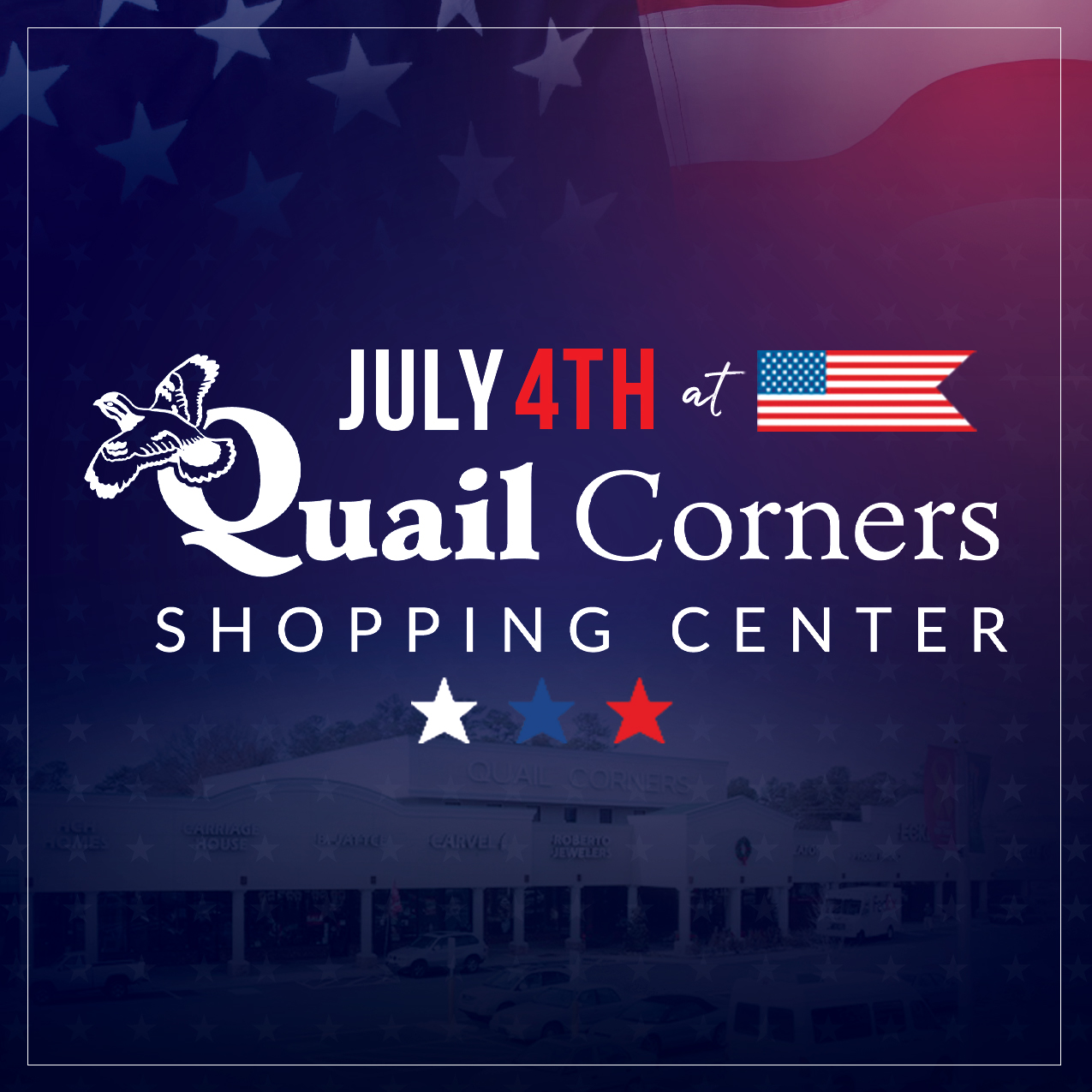 Fourth of July at Quail Corners
When July 4th rolls around, what comes to mind? Perhaps it's the vibrant colors of red, white, and blue, symbolizing patriotism and American pride. Or maybe it's the enticing aroma of grilled foods, accompanied by the crackling sounds of fireworks and the cheers of baseball fans. Of course, there's also the joy of spending quality time with loved ones, creating cherished memories that will last a lifetime. Whatever your typical Fourth of July looks like, consider stopping by Quail Corners Shopping Center for a bit.
Step into Rocket Fizz, a haven for nostalgia enthusiasts, where you can discover a treasure trove of classic sodas, candies, and memorabilia. Why not surprise your party guests with sweets from their childhood or introduce them to iconic American treats? For those seeking a healthier alternative, make a pit stop at Juicekeys and indulge in their delectable power bowls and smoothies, filled with nutritious goodness. And if you crave the quintessential taste of an All-American sandwich accompanied by crispy chips, look no further than the Butcher's Market.
If you aren't looking for food but a summer refresh, Quail Corners Shopping Center can also help with that. Explore Swagger Boutique and find an outfit that will make you shine like the stars at your cookout. And if you need a quick fix or alteration for an item you already own, Quail Cleaners and Tailors is at your service. Pamper yourself further at Total Hair Salon, AM Styles, Quail Corners Barber Shop & Styling, or Styles by Cathy, where skilled professionals can give you a fresh haircut or a complete color transformation, ensuring you look and feel your best. While you're at it, don't forget to visit Queen Nails, where the talented nail technicians will create the red, white, and blue nails of your dreams.
And should you wake up on July 5th in need of a reset, make your way to YoBa Studio for an invigorating exercise class that will leave you feeling rejuvenated and ready to conquer new challenges. July 4th is a time to revel in the pleasures of delicious food, the warmth of companionship, and the indulgence of self-care. By choosing to support Quail Corners Shopping Center, you're not only embracing the spirit of the American Dream but also ensuring that your celebration is elevated to new heights. This July 4th, make Quail Corners your go-to destination for a truly memorable and fulfilling experience.