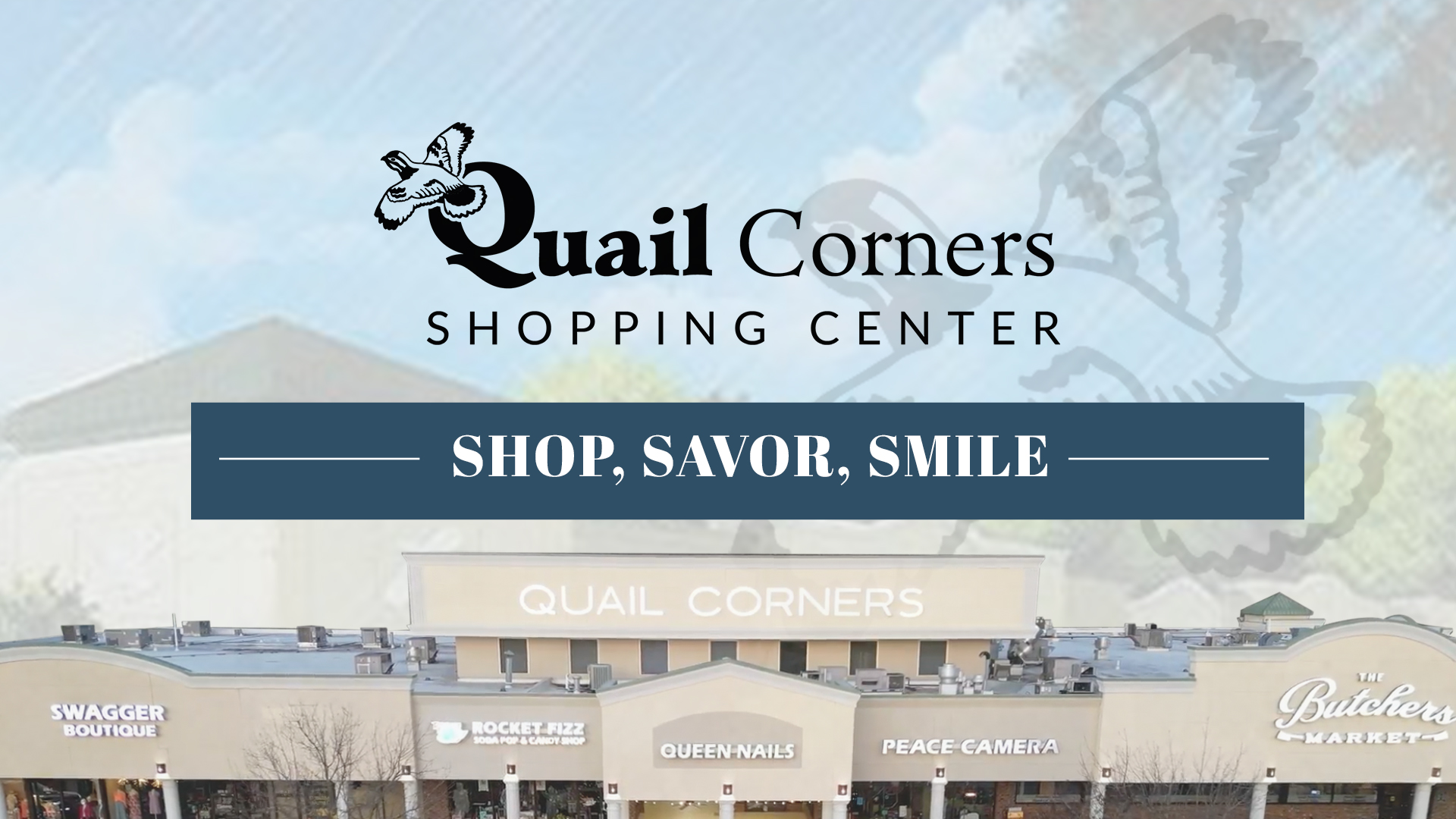 Shop.Savor.Smile
Quail Corners Shopping Center is a home away from home. With shopping, delicious food, and experiences sure to cause you to smile, there's always a reason to stop by. This shopping center in North Raleigh has served satisfied customers for years and has created a tradition of providing many different services of the best quality. Quail Corners Shopping Center wants you to Shop, Savor, and Smile, so here's what you can expect to experience the next time you visit:
Shop
Shopping has never been more fun than at Quail Corners Shopping Center. From nostalgic candy to boutique clothing, there's a shop for everyone to enjoy. If you're a sweets enthusiast, stop into Rocket Fizz, a premier soda and candy shop offering a stunning array of hard-to-find and standard sweet treats. Grab a soda from your childhood, or find your new favorite candy. The staff can help you find the flavor you're looking for or recommend something you've never thought of trying!
If candy and soda aren't your thing, go to Swagger Boutique or Carriage House Clothing for a few pieces to update your wardrobe. Both boutiques offer classic and trendy pieces for customers to mix and match as they please. Since 2006, Swagger Boutique has been an award-winning, customer-pleasing shop for that classic Southern look. With bright colors, relevant collections, and the friendliest staff, Swagger Boutique is obsessed with ensuring every customer feels like royalty. You'll find Carriage House Clothing a few doors down, your place for chic and stylish clothing and accessories. At Carriage House, you're paying for quality clothes that will last you a lifetime. With a stunning array of clothing, accessories, and jewelry, you'll wish you had visited Carriage House before.
If you enjoy cameras more than candy and clothing, Quail Corners Shopping Center is still the place for you. Peace Camera has a staff of digital and analog photography, videography, and lighting experts. Whether you're looking for a new piece of equipment or something second-hand, Peace Camera guarantees satisfaction. Photography amateurs and professionals will feel welcome in this down-to-earth environment, and you're bound to leave with more knowledge than when you walked in.
Savor
Whether you're a busy worker on the run or someone enjoying a slow day, stopping at Quail Corners Shopping Center for food should be a priority. With dine-in and carry-out options and a large selection of different types of food, you can stop for food every day of the week and never get bored.
If you want a delicious country-style breakfast, look no further than Big Eds. Big Eds is a local icon founded in the 1950s. Known for its delicious hot cakes, the restaurant has become so loved in the last ten years that there are now three locations. If breakfast isn't your vibe, Big Eds also serves lunch with all the fixings. Stop in today for a taste of your grandmother's cookin' and an experience you'll keep coming back for.
If you're in the mood for Italian food, Quail Corners Shopping Center also has you covered. At Cristo's Ristorante and Pizzeria, customers can get Italian food from scratch, satisfying everyone. Whether you're dining with a picky eater who only eats pizza or a pasta snob, both can leave Cristo's completely satisfied.
If you need a quick breakfast option, Morning Rolls has classic and seasonal cinnamon roll options for customers to enjoy. And if you prefer savory over sweet, Morning Rolls also has delicious breakfast sandwiches on Hawaiian Rolls. Vegetarians and meat lovers alike are invited to enjoy fantastic breakfast and lunch options at hard-to-beat prices.
And if you need a quick lunch or dinner option, try Burrito Shak. Known for its coastal spin on classic burrito bowls, customers always come back for more. Burritos, tacos, and quesadillas are all on the menu at Burrito Shak, alongside house-made salsas sure to satisfy any customer. Burrito Shak is a growing franchise, so if you haven't heard of it yet, now's the time to try your new favorite spot.
Smile
Quail Corners Shopping Center's overarching goal is to make each customer feel cared for, and this is best shown by the smiles we see on many of our customers' faces. From exercise to coffee to hair services, every visitor can find something that brings a smile to their face.
YoBa Studio is your one-stop shop for all sorts of fitness classes. With yoga, barre, strength, and cardio options, YoBa Studio is on a mission to make every member fall in love with their workout routine. Long-time fitness enthusiasts, those just starting, and everyone in between are all welcome at this fun, unique studio. Both heated and non-heated class options are available.
If a fitness class isn't what gets you smiling, then perhaps a good cup of coffee or a delicious pastry will. Deja Brew has been serving customers in the Raleigh area since 2009. With classic coffee and specialty beverage options, any coffee lover will love Deja Brew. Deja Brew gets all its pastries from Hereghty Cafe and Manhattan Bakery, another Raleigh classic. Go through the drive-thru for a quick pick-me-up, or go inside or on the patio for a relaxing moment in your busy schedule.
For some people, getting their hair done is the best part of their month, and if that's you, Quail Corners Shopping Center is sure to make you smile. With several options, getting a haircut or having your hair styled or dyed has never been more enjoyable. Total Hair Salon's staff has provided exceptional service to their clients since 1986. From consultation to cutting to coloring, you're sure to find the exact service you need. If you want to go to a barbershop, Quail Corners Barber Shop & Styling is the place for you. With years of expertise, the barbers at Quail Corners Barber Shop & Styling are precise and quick, giving you the best experience possible. Whether you want the salon experience or a short trip to the barber, Quail Corners Shopping Center has everything you need to look in the mirror and smile.
No matter what you're looking for, Quail Corners Shopping Center is dedicated to ensuring you have the best experience possible. Whether you're running errands, rushing between meetings, or enjoying a weekend morning, we hope you'll stop in to see that Quail Corners Shopping is the place to
shop, savor, and smile
.