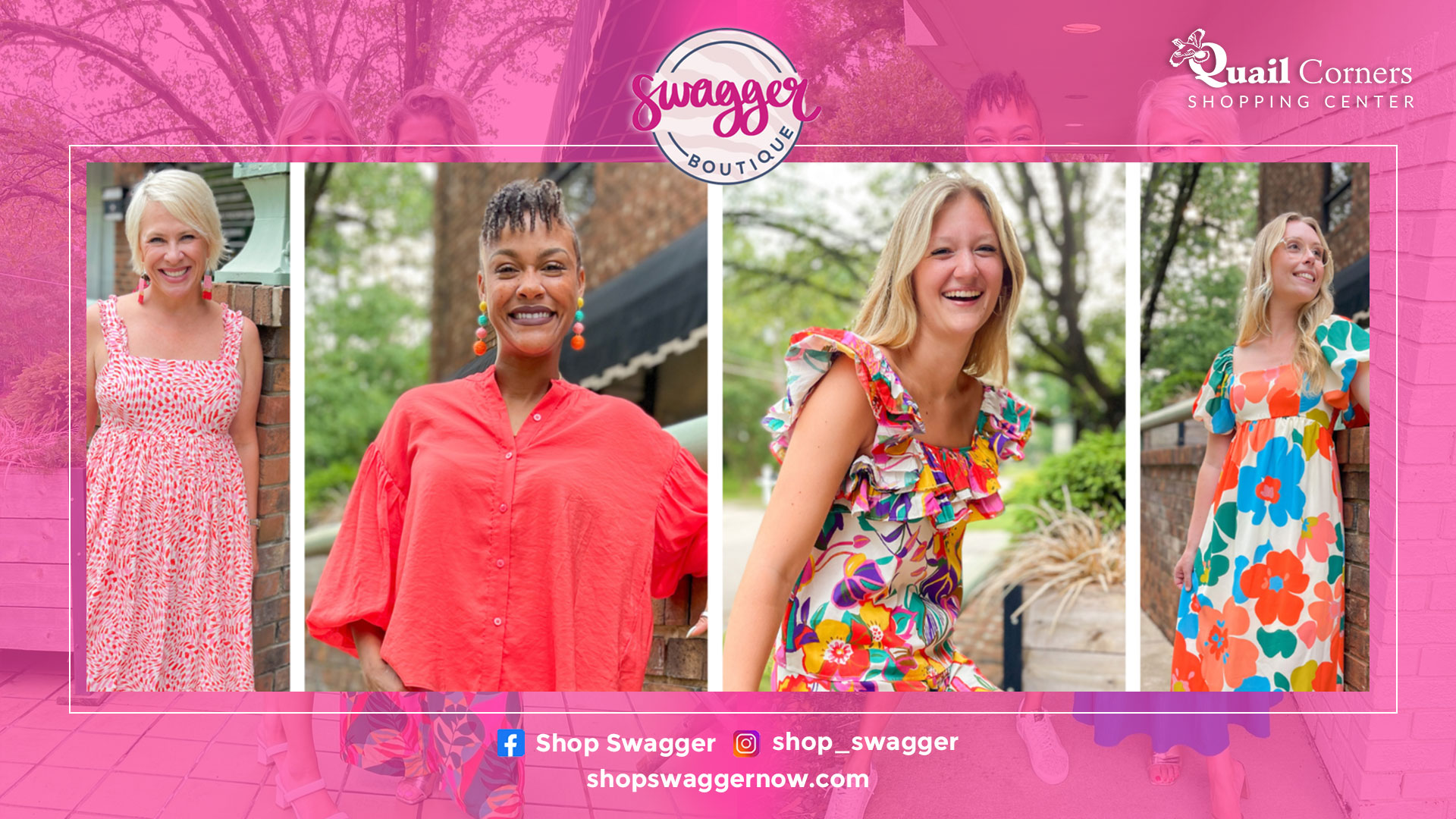 Fashion as Unique as You
If you want to transform your wardrobe into a trendy Southerner's paradise, look no further than Swagger Boutique. With stores in Raleigh and Cary, as well as an app and website, Swagger Boutique makes dressing stylish and cute incredibly easy and enjoyable.
Located conveniently in Quail Corners Shopping Center, you'll encounter friendly and helpful employees who are dedicated to providing you with the best customer service possible. As soon as you step through the door, you'll be greeted with genuine Southern hospitality and an exciting atmosphere. With dressing rooms and a knowledgeable staff ready to assist you, shopping for clothes that fit you perfectly is a stress-free experience at Swagger Boutique. You'll quickly realize that this wonderful boutique has truly mastered the art of making shopping feel like a dream.
From wardrobe basics to head-turning pieces that will make you a trendsetter, Swagger Boutique has got you covered. If you're craving bold and vibrant patterns, this is the place to be. Whether you're into stripes, dots, or a stunning blend of prints, you're sure to find something that suits your style. And let's not forget about the stunning array of colors offered at Swagger Boutique. Bright pinks, beautiful blues, and gorgeous greens are just some of the amazing colors you'll love.
Of course, no outfit is complete without the perfect pair of shoes and some accessories, and Swagger Boutique knows this all too well. Discover trendy earrings and necklaces at affordable prices. Pick out the ideal bag for a day at the lake or a stroll around the city. And choose from a carefully curated selection of heels, flats, booties, wedges, and fashion sneakers. Yes, everything you need to create the perfect outfit can be found at Swagger Boutique.
And if you're tired of constantly putting on and taking off your favorite anklet, bracelet, or necklace, Swagger Boutique has the perfect solution for you: permanent jewelry. This fine jewelry is expertly welded while you wear it, ensuring it becomes a seamless part of any outfit. And the best part is that you can enjoy this custom-fit jewelry for years to come. (Appointments are required for this service.)
Swagger Boutique at Quail Corners Shopping Center is open from 10 am to 6 pm, Monday through Friday, and 10 am to 5 pm on Saturdays. Don't wait to visit Swagger Boutique—come on in and discover something you'll absolutely love!